BI-SENSOR
Multifunctional graphene-based biosensor for medical diagnosis
Rapid, sensitive, selective, and cost-effective analysis of different biomolecules and microorganisms is crucial in clinical diagnosis and efficient treatment of patients. Hence, there is a growing demand for decentralized laboratory methodologies which can be implemented in doctor's office, emergency room or in the field for the analysis of such analytes as DNA, RNA, proteins, antibodies, bacteria, viruses, small compounds etc. Lab-on-a-chip platforms and miniaturized point-of-care devices based on biosensors fulfill these demands and are foreseen to revolutionize future medical diagnostics. Because of excellent electric and optical properties, graphene has recently found to be highly attractive in biosensing applications, and potentially may thrust new perspectives into the field of miniaturized medical diagnostic devices. The main objective of this project is to develop a multifunctional graphene biosensor for effective electrochemical detection of specific DNA microbial targets in biological samples and blood glucose monitoring. Developed technology will allow fabrication of low cost sensing components for point-of-care diagnosis.
This project will greatly contribute to technology progress in the field of graphene-based biosensors, giving a strong thrust to the development of clinically approved miniaturized nanoelectronic devices for point-of-care diagnosis. It is also presumed that clinical evaluation of performance of developed graphene biosensors, which is an important aspect of this project, will attract more attention from biotechnology industry and future investment allowing more rapid technology development.
This project, conducted in years 2013-2015, is financially supported by the National Centre for Research and Development within the framework of the GRAF-TECH Programme, grant No GRAF-TECH/NCBR/08/06/2013.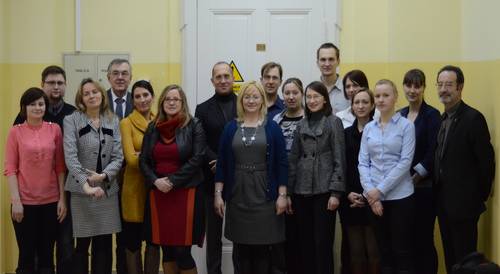 The BI-SENSOR participants during the kick-off meeting in February 2013
from the left: Karolina Urbaś, Daniel Matias, Mirosława El Fray, Ryszard J. Kaleńczuk, Małgorzata Wojtoniszak, Ewa Mijowska, Jacek Podolski, Agnieszka Hofman, Piotr Sobolewski,
Agata Niemczyk, Zuzanna Wechterowicz, Zygmunt Staniszewski, Hanna Dudek, Anna Gajewska, Joanna Derkowska, Agnieszka Bartoszewska, Krzysztof Penkala